---
Toby Huntington-Whiteley at Models1 is the latest model to share their personal photo-diary with Client Voyage. During his recent training trip to the beautiful island resort of Obonjan in Croatia, Toby sent us a selection of images to put us in that holiday feeling. With crystal blue water, Sunset's to die for and delicious food, we're sure you will be able to immerse yourself into his journey. Toby is a familiar face in the world of modelling, working with a broad range of clients that have included Tommy Hilfiger, Ralph Lauren, Moschino, Jacomo, Dolce & Gabanna, Bulgari, Mr Porter and Burberry.
On his return, we caught up with Toby to learn more about him and we hope you enjoy the photo-diary and interview!
1. Hello, Toby, it's great to have the opportunity to talk with you about your photo-dairy and trip to Obonjan. Was this your first trip there and what, as a destination, intrigued you about it?
Yes. It was my first time there, it's only its second year running – a friend of mine went last year and raved about it so I knew this year I wanted to go myself. I loved the idea of a chilled festival vibe on an island – what's not to love?
2. The island seems truly spectacular, with lots of breathtaking scenery. How did you spend most your time there and what was the nightlife like?
It really is very beautiful and raw there. I wanted to take some time to relax and chill out whilst I was there after a busy few months in London. So I practised yoga every day but apart from that didn't do too much else except swimming and lying in the sun.
4. What motivated you to become a fitness trainer, and why is staying fit so important?
I have always been interested in sport and very quickly realised that an office job wasn't for me. Moving into the field of fitness and health where I can practically teach skills is much better suited to me.
5. Who are some the most famous clients you have trained? Are they as committed to fitness as your regular clients?
I have trained a few celebrities but honestly, a client is a client to me. I treat everyone the same, I just want to help them get the best of the time we have in a session. I don't think commitment is linked to being famous it is simply down to character and if specific goals are set.
7. There is a perception that all models are fit and healthy. Do you find that to be a truthful assumption?
In my experience, it's a mixed bag. I think lots of guys in this industry do take care of themselves and eat well and train regularly. Some models are not so interested in health and party quite a bit. I think perceptions on training and working out have shifted in recent years, it's become cool to work out so more and more people are engaging in it.
8. How did you get introduced to modelling, and what are some of your favourite campaigns?
A mate of mine took me into Models 1 a couple of years ago, I didn't really have any expectations, but it just went from there really. I'm naturally drawn to sporty campaigns but I also like simplicity and classic styling so heritage brands like Belstaff and Burberry always do effortlessly cool campaigns.
9. Anything unusual or funny happen during your time in Obonjan?
I wish I had a wild story from a crazy night out but it just wasn't that kind of trip for me!
10. How long did your trip last, and did you have the opportunity to maintain a workout routine or was it mainly fun in the sun and relaxation?
We were there for a week, I taught HIIT classes every day so I always end up joining in a bit with those. I swam in the sea quite a bit and did yoga every day. Apart from that, I was happy to give my body some rest.
11. How often do you get a chance to simply get away and take time just for yourself?
Travelling is a huge part of my life, so I'm very lucky to be able to get away and have time to myself quite often. I also like to have something booked in the pipeline to look forward to.
12. You have done a great job branding yourself. What are your future goals in modelling and fitness?
I am in the process of creating a workout method that I would like to roll out in a class setting. Watch this space! Modelling-wise I have less control over so I take each day as it comes and I'm thankful for the work I do get to do.
Follow Toby's journey on Instagram
Follow Models1 on Instagram
Follow Client Voyage on Instagram
Interview by Nathan Best for Client Voyage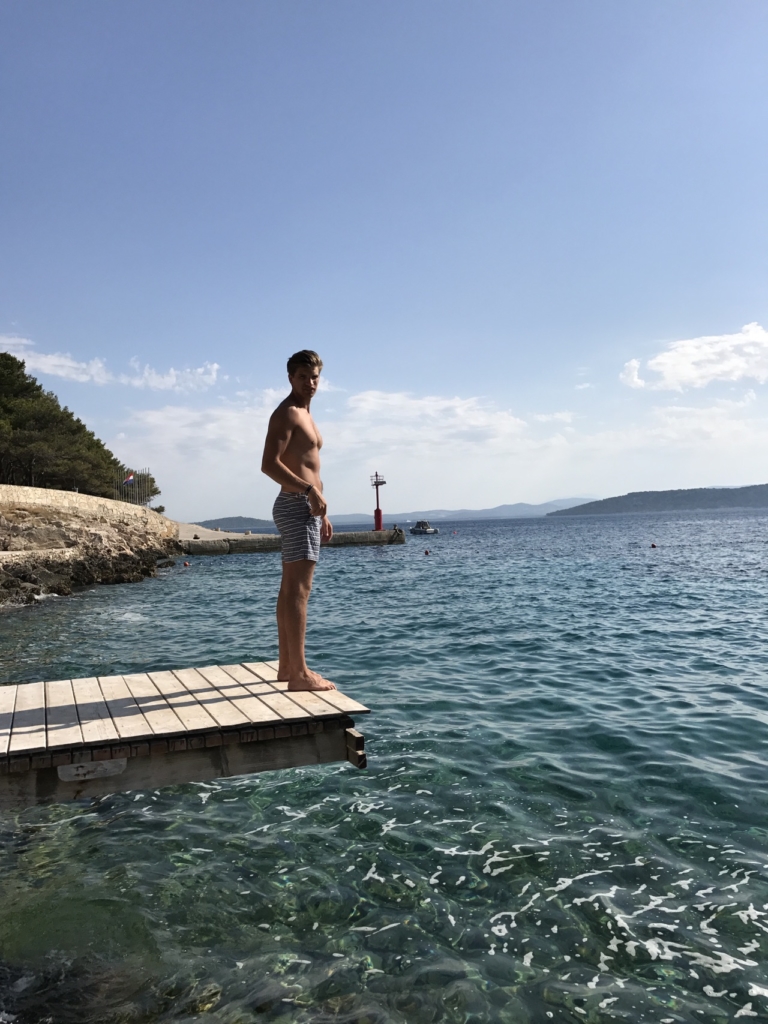 SaveSave
SaveSave
SaveSave
SaveSave
SaveSave